Accessing the App Store
Access to the App Store is password protected, you must provide valid credentials (Username or email address and Password) to access it.
This short guide will show you step by step how to:
Login With Single Sign-On (SSO)

Using your preferred web browser, navigate to the web address provided by your administrator, for example, "mycollege.apporto.com."
A 'redirect' screen displays.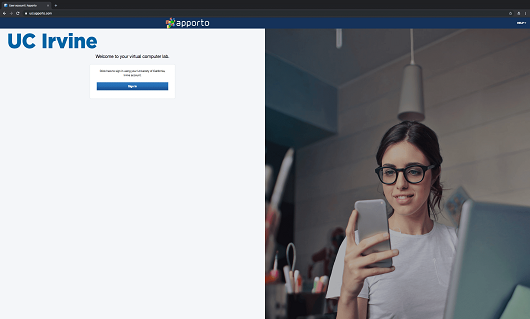 Click Sign In to access the Apporto Login page.
Enter your Single Sign-On (SSO) username and password.
The App Store displays.

Login via Apporto Login Screen

Enter the credentials provided to you by your administrator in the Username or email address and Password fields.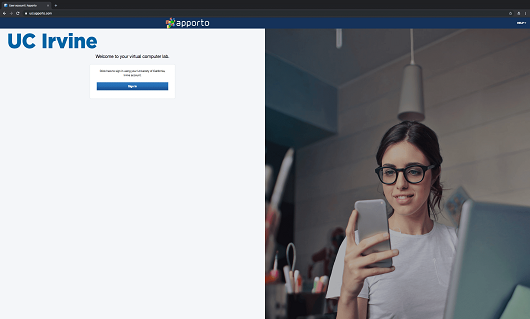 Click Login
The first time you log in to Apporto (using a link from the Welcome email), you are directed to the PROFILE page to enter a new, permanent password.
Forgot your password? If you enter an invalid username or password, you will see an error message. Click the Have you forgotten your password? link to request a new password via email, then follow the steps to login.
Login via Canvas

If your university has made Apporto accessible in Canvas, you will be able to login to Canvas, navigate to your Course, and click on a link to launch Apporto.
The App Store is where you can access all the apps and desktops available to you in Apporto. It is your virtual computer lab.
You may sort and search to find a particular app or desktop.
Announcements appear on the right side of the App Store.
A Help menu is accessible in the upper right corner.

Search for an Application

App Search
When you search for an application, the system searches for occurrences of the text string anywhere in the application or publisher name. For example, the search term "ad" would include the results "AutoCAD," "Notepad" and "Cadence."
Enter the term you wish to search for in the Search box, then press Enter. The App Store refreshes to display only those applications that contain your search term.
Click the
icon to clear the Search box and return to the full App Store.


Launch an App

Launch App

To launch an App or Desktop click on the Launch button. See launching an App or Desktop for more information.
Logout

To prevent unauthorized access, you must log out of the App Store when finished with your session.
Click the LOGOUT link in the App Store header. You are returned to the 'login' screen.