Accessing the Apporto App Store
Access to the App Store is password protected. You must provide valid credentials (Email or username and Password) to access it.
This short guide will show you step by step how to:
Depending on how Apporto is implemented for your organization, you may login:
Via single sign-on (SSO)

Directly via the Apporto login page
If you are not sure which applies to you, please contact your Apporto administrator or email support@apporto.com.


Login with Single Sign-On (SSO)

Logging in with Single Sign-On is the most common way to login to Apporto.
Using your preferred web browser, navigate to the web address provided by your administrator, for example, "mycompany.apporto.com."
A 'redirect' page displays.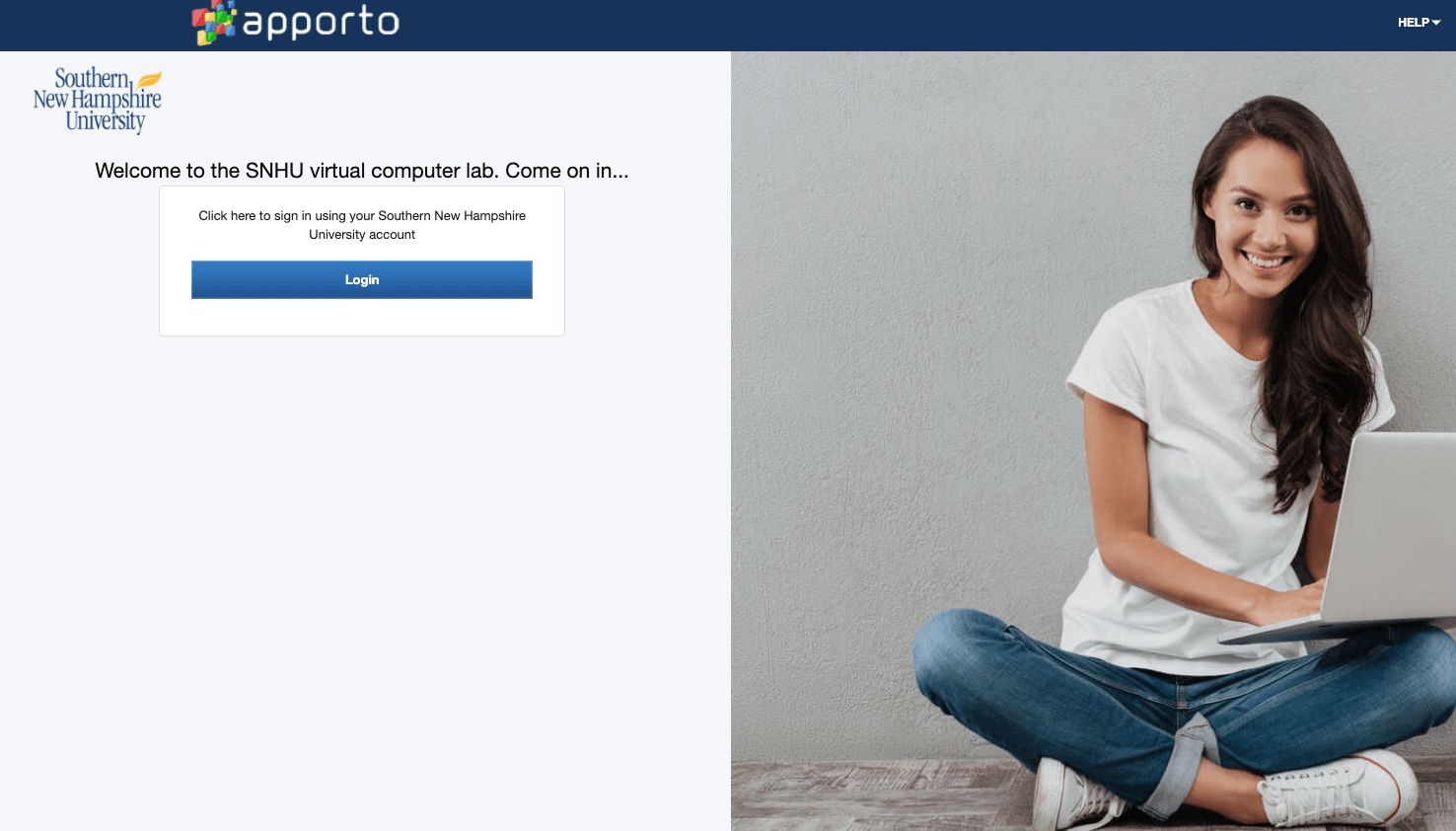 Click Log In to access your organization's Login page.
Enter your Single Sign-On (SSO) username and password.
The App Store displays.
Login directly to Apporto

If you received a Welcome email, click on the link in the email to login to Apporto.

Alternatively, if credentials were provided by your administrator, navigate to your Apporto instance (eg. mycompany.apporto.com) and enter your Email or username and Password.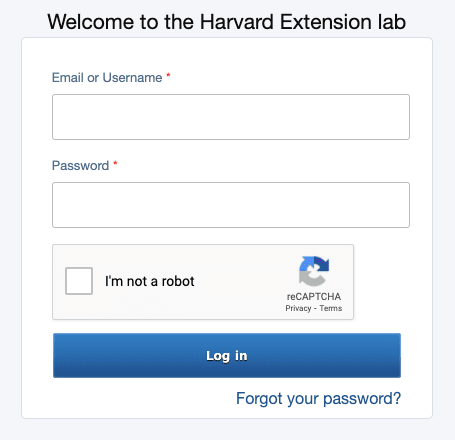 Click Log in

If you do not see an email in your inbox, check your spam folder. The email subject typically contains "Welcome to the Apporto Virtual Lab" and is sent from noreply@apporto.com. If you still don't see an email, contact your Apporto administrator or email support@apporto.com.
The first time you log in, you will be directed to the PROFILE page to create a new password. After creating a password, click
in the left panel to open the App Store.


The App Store is where you can access all of the applications and desktops available to you via Apporto.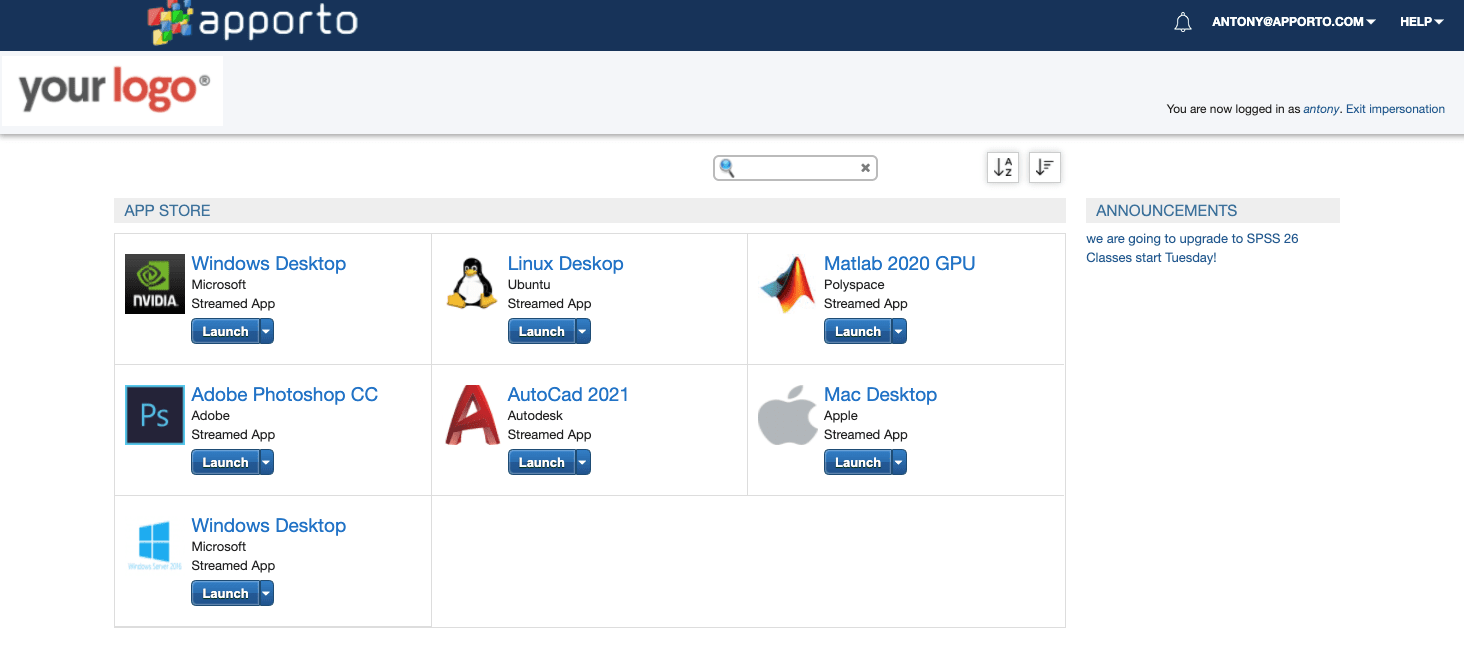 For each application or desktop, you will see the name of the application, the devloper, application type, and an "action" button (eg. Launch).
You may access your Account and Help menus from the top panel.
You will also find any relevant Announcements on the right.
" There are four types of applications: streamed, downloadable, native, and web. Streamed applications and desktops are by far the most common. They are installed on a server in the cloud and "streamed" to you via a browser. Downloadable apps are ones that you can download and install on your local computer. These apps are not managed by Apporto. We simply enable you to download them. Native applications are also downloaded and installed on your local computer - but are managed by Apporto. The installation and configuration are streamlined to simplify setup. Web applications run in a browser. Apporto simply provides a link to launch these applications.
Sort Applications
Sort Alphabetically
When you log into Apporto for the first time, apps are sorted alphabetically by default - unless your organization has specified otherwise.
The next time you login and thereafter, apps will be sorted by frequency of use.
To sort alphabetically, simply click Sort Alphabetically.
Sort Most Used
After your first login, apps are sorted by frequency of use by default. The most-used apps appear first. You may also click Sort Most Used to sort by frequency.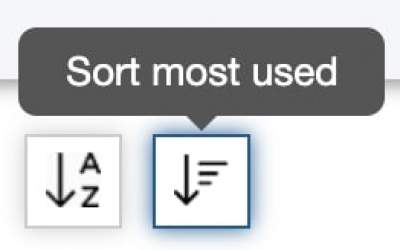 Search for an Application

App Search
When you search for an application, the system reads the word(s) in your search term as a string of characters (rather than as separate words), and searches for occurrences of the text string anywhere in the application name or the developer/publisher name.
For example, the search term "ad" would include the results "AutoCAD," "Notepad" and "Cadence."
Enter the term you wish to search for in the Search box, then press Enter.
The App Store refreshes to display only those applications that contain your search term.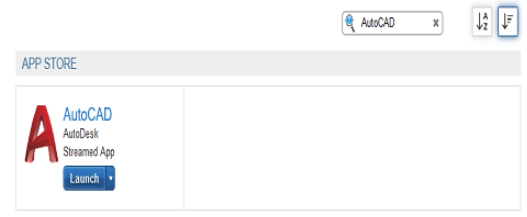 Click the

icon to clear the Search box and return to the full App Store.

Launch an App or Desktop

To launch an App or Desktop click on the Launch button. See launching an App or Desktop for more information.
About Apporto
To see the current version, primary cloud platform, and your personal storage quota, click the HELP dropdown and select ABOUT APPORTO.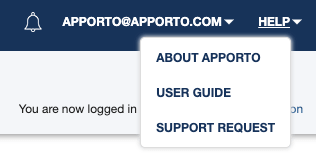 The 'About Apporto' screen displays.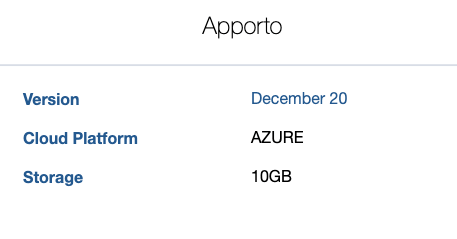 For more details about the current version, click the version number to view the latest Release Notes.
By default, all users have 10 GB storage. If you need more storage, please contact your administrator.
Logout

To log out, click the dropdown arrow next to your account in the upper right corner and select LOGOUT .

You are returned to the 'login' screen.