Publishing an App or Desktop
A key administrative task is to ensure that end users can easily and securely access their apps and desktops.
Publishing ensures an app or desktop is accessible when users log into the App Store.
You can publish apps and desktops to group(s) or even to specific users.
Publish an App or Desktop to a Group or User

Publish App or Desktop

Using your preferred web browser, navigate to the URL for your Apporto instance, for example, "mycollege.apporto.com", and log in to the system using your credentials.
Click the App Publishing

icon in the Navigation panel.
The 'App Publishing' screen displays.


The Select a group or user pane on the left enables you to search or drill down in the hierarchy to find groups and users.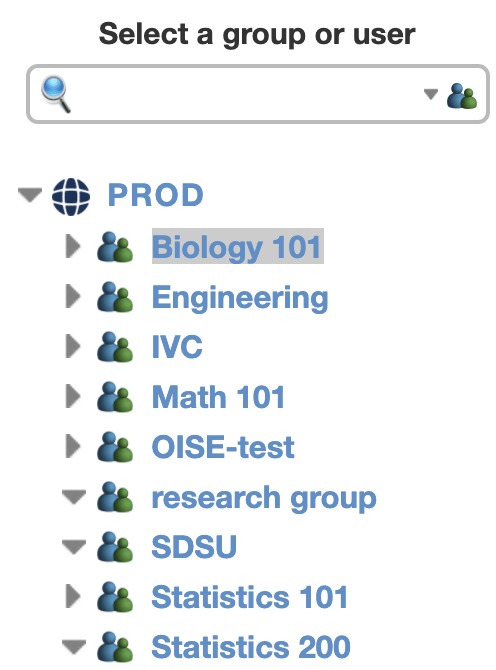 By default PROD (ie. production) is selected. If you publish an app or desktop at the production level, it will be accessible to all users, including users in the unassigned group.

Use the search function or click on an arrow to expand the hierarchy and locate the relevant group or user.
Click on the desired group or user to select it.
Locate the app or desktop on the right that you wish to publish to the selected group or user.
Click the "down arrow" on the STATUS / ACTION drop-down menu for the desired app.



To publish the app or desktop click Publish
To publish the app or desktop and notify users by email click Publish and Notify
To publish the app or desktop and have it automatically launch when the user logs in (bi-passing the App Store as a landing page) click Autolaunch
Only one app or desktop can autolaunch for a particular user. Even if other apps or desktops are published to the user, the autolaunch app or desktop will trump all others.

Inheritance
Desktops and apps published to parent groups (eg. PROD) are inherited to child groups (eg. Math 101).
You can see which desktops and apps are published to a particular group by selecting the group and checking the STATUS.