Managing Your Profile
The first time you log in to Apporto, you are directed to the ACCOUNT page to enter a new, permanent password.
​ If you login to Apporto via Single Sign-on (SSO), your account is managed via the SSO system - and you will not be able to change your password in Apporto.
Password Requirements



Must contain at least 10 alphanumeric (letter or number) characters.

Must contain 2 special characters (eg. ! @ = ?).
The Password qualify scale provides an indication of how secure your password is, from Bad to Good.

This short guide will show you step by step how to:
Configure Permanent Password

Access Profile

Using your preferred web browser, navigate to the URL provided to you by your administrator, for instance, "mycompany.apporto.com" and log in to the Apporto App Store.
Click on your Username or email in the upper right corner.
Select ACCOUNT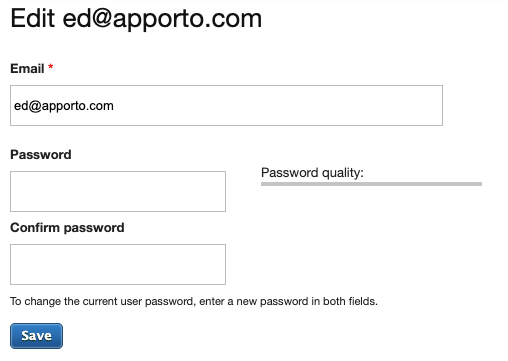 Your email address is read-only and cannot be changed.
Change Password

Enter your new password in the Password and Confirm password text boxes.
Be sure to enter the password in exactly the same way in both text boxes.
Click Save